If you're not familiar with SEO, the phrase might just sound like a marketing buzzword, but if you want to scale your business, then you need to pay attention to, and make the investment in, SEO, and the best place to start is with an SEO website audit.
SEO, or search engine optimization, is all about getting more organic traffic to your website by focusing on how your page ranks in search engine results. In a nutshell, SEO is how a) Google knows what your website is all about and b) Google decides how (and where) to display your website in search results.
Think like a consumer
Think about your own online searches as a consumer. Say you're looking for a recipe to make a birthday cake and search Google for the phrase "birthday cake recipe."
Here's what my search results showed: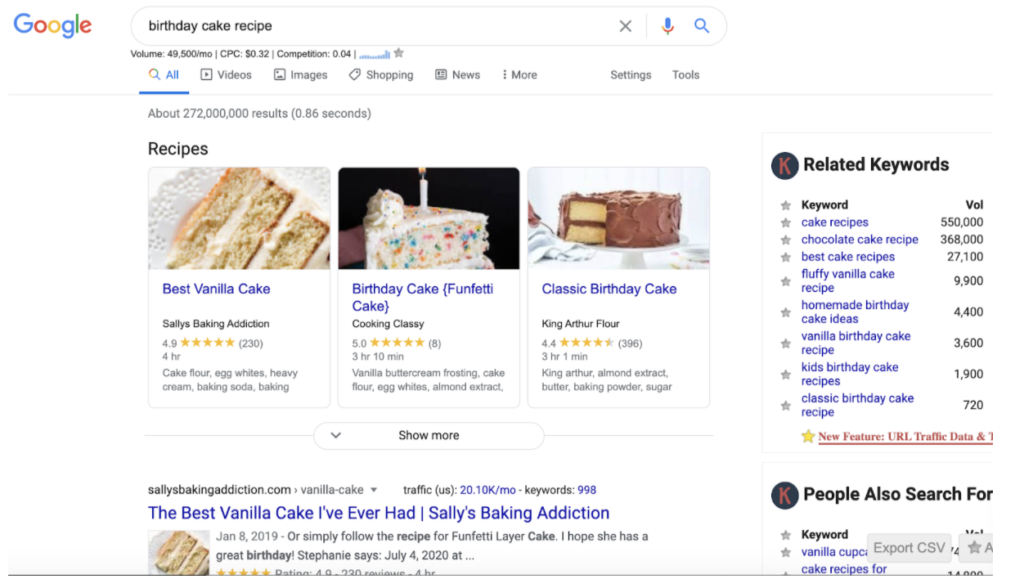 Now, think about where you'll click. Odds are, you're going to explore one of the top three results returned. Maybe you'll go through the first page, but chances are, you won't head to page two of Google's search results, and we're willing to bet you won't venture over to page three.
These websites don't show up first in Google's results at random. These sites are meticulously optimized for SEO, and that investment has significantly paid off for these companies.
What You Can Do To Improve Your SEO Today
While there's no exact recipe to follow to ensure your business makes it to page one, there are immediate and actionable steps you can take today to get your website moving in the right direction.
Imagine your customers are searching for your product. What's the number one search term a customer would use to find your site? Go ahead and run a search for that keyword now in an incognito browser.
Where is your business listed?
If it's not in the top three results on page one, then you have SEO work to do! If you haven't yet taken the plunge into focusing on SEO, then there's one thing you can do right now that'll make a huge difference, and that's establishing a baseline for where your website sits today with an SEO website audit.
Run a report through a free site like Woorank, SEOptimer, or Neil Patel. In a few minutes, you'll end up with a basic overview and grade for your website's current SEO, along with a number of actionable steps you can take immediately to give you a boost.
These tools will provide suggestions for your HTML headers, body content, metadata, header tags, image alt attributes, content, keywords, phrases, link structure, and indexing. While these tools won't give you the comprehensive SEO audit you can get from an outside agency, you'll still get a great sense of where to begin, if you haven't focused too much on SEO yet, or how your efforts are seen by Google, if you've already spent some energy on SEO in the past.
Bonus SEO Tip: Do What The Competition Does, Then Do It Better
Our best tip? Run the same reports for your top competitors and see how their SEO efforts are paying off. If your competitors are ranking for search terms you aren't, then that's where you focus your attention. Ensuring you're capturing the same market as your competitors (and soon more!) is critical to keep your business ahead of the game.
SEO is a long-term strategy, and Google is always playing with its algorithms. Staying ahead of the curve and understanding the importance of making an investment in SEO is one of the best ways your website — and your business — will stand out among the millions of search results.